From Poser to Video
There's a few different ways to use Poser animation. This tutorial will give the basics of making a video using Poser's AVI render setting.
After you have your animation the way you want, click on Animation at the top of Poser, then Make Movie and a new screen will come up. You'll see there's three different ways to render and save your animation.
As:
1. Image Files for .gif animations
2. AVI for video or
3. Flash for Flash.
To create a video, choose AVI.
This will bring up a second window. Here you choose your of Compressor and compression quality. These tutorials are meant more to get people started and will not cover every aspect of the video settings. Since we'll eventually be using Windows Movie Maker that comes with Vista, we'll choose the "Microsoft Video 1" setting at 75%. There are lots of other settings there and I encourage everyone to try them out. For now however, this is a very easy method of creating video.
In this window you can also choose to only render every nth frame. Since the video I'm going to make is only 700 frames, I'll leave that unchecked.
Open Windows Movie Maker. Under " Import", click "Videos" and find your rendered AVI file. Once loaded, it will show up on the left side of Movie Maker and also as a playable version on the right side. Click on View > and change from Storyboard to Timeline and you'll get the timeline view shown below. Import as many AVI files as you like and drag them to the timeline.
Right click your video in the timeline and it will bring p a new box "Add or Remove Effects". Here I'll slow down the video clip by choosing "Slow Down Half".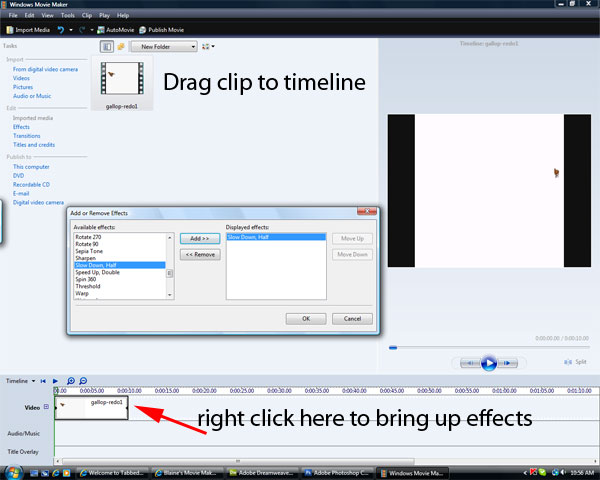 Under Edit on the left side of Movie Maker, choose "Titles and Credits" if you would like to add these. Then go to File > "Save Project" and File > "Publish".
A very simple way to get your movie on the internet is to start a youtube account and upload there.